Van Dine Family Americanism Award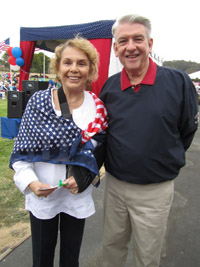 James W. Kinney, PV High School Activities Director
Jim Kinney (Dec. 23rd, 1938 - Oct. 18th, 2016) was born and raised in Santa Maria, CA. Following high school, Jim enrolled at USC and received his BA in History in 1961 and his Masters in 1968. After graduation from USC, Jim began his teaching career at Palos Verdes High School in the History dept. He became the full time Activities Director in 1968. It is in the capacity that the "Mr. Kinney" legend began. He was an outstanding teacher and an even more spectacular Activities Director. His dedication to his students and work were unparalleled to the point where "Mr. Kinney" became synonymous with Palos Verdes High School. His work ethic, meticulous manner of dealing with tasks, and his unselfish dedication to his students were the qualities that contributed to his acclaimed reputation.

In addition to his students and work, Jim had many other interests, including collecting political memorabilia dating back to Thomas Jefferson. He also loved to travel and in his later years, he became part of Argo World Travel where he continued to work after his retirement from the school district. He was an active community leader and participated in many local activities, projects and clubs, including the PV Breakfast club and the PV 4th of July planning committee where he headed up none other than the school essay contest for many years.

Jim's qualities as an individual personified altruism. He would do anything to help a friend or colleague. His word was his bond and his ethics were beyond reproach.