Van Dine Family Americanism Award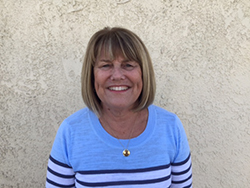 Carol Murin, teacher
Carol Murin is a second generation Californian raised in Manhattan Beach and Redondo Beach. Carol attended local schools and graduated from Loyola Marymount University. After graduation Carol began her teaching career in Palos Verdes Unified School District. During her tenure as a teacher she taught several different grade levels including 37 years at Lunada Bay School, the last 16 teaching kindergarten.Since her retirement in 2013 Carol has returned as a volunteer Chair for Art at Your Fingertips at Lunada Bay School.

As a resident of Palos Verdes for the last 40 years Carol has been active in numerous community and charitable organizations. Her active volunteer efforts have included, among others, PV Juniors, Las Madrecitas and Las Ninas, with her daughters Kelly and Courtney.she was involved in Los Hermanos, with her sons, Chris and Kurt. Carol and her husband Bill were founding members of Palos Verdes Peninsula High School Athletic Booster Club. Carol received the Honorary Service Award from the PVPHS PTA and was honored as the Educator of the Year in 2007. Recently she served as Co- President for Harbor Interfaith Services.

Carol and her husband Bill were blessed with four wonderful children and now are thrilled to have four grandchildren. In addition to doting on her grandchildren she looks forward to continuing her community involvement.